Why Singapore?


This study tour will introduce you to an innovative educational environment. You will visit schools, universities and other educational institutions, where you can gain meaningful knowledge and experience. You will be able to make connections with my network in Singapore, and engage in a unique dialogue.
In Singapore, all facets of education are interconnected. There is a systemic, holistic approach with a distinct role for each element. The importance of education as human capital is widely acknowledged. Moreover, education is a major connecting factor among the population of Singapore. It goes without saying that is exceptionally meaningful to gain knowledge and experience in this country, with its excellent educational results and vast appreciation and facilitation for teachers. There is a great interest for educational innovation in the Netherlands. However, teachers and school leaders still struggle with many questions. Educational developers have introduced flexible learning routes, formative evaluation, and a three-year introduction period in secondary education as possible solutions. Following the footsteps of the Kunskapskolan schools in Sweden, personalised learning is increasingly adopted in the Netherlands as well. New, ambitious forms of education are emerging. In Dutch education, many different initiatives emerge side by side, since people are constantly seeking to give education new impulses.
Engaging in a dialogue in Singapore
For five years in a row, I have visited Singapore, the smallest country in Southeast Asia. Although I am not uncritically enthusiastic, I am primarily excited about the modern and innovative education system. In any case, it is evident that education is flourishing in Singapore. The country represents the first place on the Pisa rankings in all areas: science, reading and mathematics.
I have visited several educational institutions and schools as a researcher and teacher. In addition, I have put together a program for pupils of the Bertrand Russell College (Krommenie, the Netherlands) twice, and supervised them in Singapore. The program included visits to the University of Technology and Design, the School of Science and Technology, and Raffles Girls' School. Each of these institutions has a strong focus on innovation and engineering.
Each and every time, it is great to witness what happens when people from completely different backgrounds interact and engage with each other, willing to share their expertise.
About me
I am closely involved with education. I am strongly committed to everything related to educational development, and talent development in particular.

I am always seeking subtleties and nuances, and I try to see the story behind the obvious reality.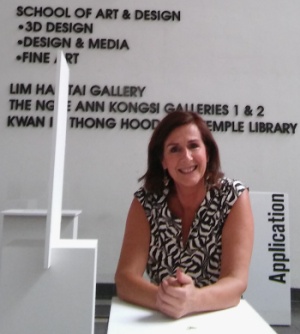 My motto is:
It is worthwhile not simply to identify it as a bird, but to specify it as a white wagtail. Those who name more, see more, and those who have the intention to name more, pay more attention.
Dichtersgesprekken (Conversations with poets)
As a secondary teacher of Dutch language and coordinator of internationalisation at the Bertrand Russel College in Krommenie, the Netherlands, I am closely involved with education. I am strongly committed to everything related to educational development, and talent development in particular. There is a clear connection between pupils who drop out and/or have to repeat a school year and their excellent cognitive qualities. I have always wanted to make a strong case for this specific group of pupils. This motivated me to go on my first study tour to Singapore, at the invitation of Maureen Neihart. At the time, she was a researcher at the National Institute of Education. My visit was to explore the existing programs for pupils who are above-average intelligent. I consider myself to be a researcher in the first place, as I am always seeking answers and exploring interesting developments. Sharing this knowledge and these insights will add even more value to meaningful initiatives. This will lead to more understanding and allow for change to take place where necessary.
Connections and partnerships make a world of difference. Particularly the partnership with this country, which is so different from the Netherlands in many ways. Beautiful Connection, therefore, embodies partnerships, connections and experiences.
What is it about Singapore?
What is it about Singapore, which is a country, a city and an island at the same time, and calls itself the 'city of the future'? Ever since my first visit, in 2015, I have been there once or twice a year. The country captured me; there is something magical about Singapore. It is where East meets West, old and new traditions and cultures unite, innovation and design thrive, educational results are on the number one ranking list for years now, and green space is omnipresent. As a city with limited land space it was forced to build up to great heights, while realising that a green environment is of vital importance for the well-being of its inhabitants. What touched me most were the personal encounters that I have had: encounters with Singaporeans who are Buddhist, Hindu, Christian or Muslim. There is a large diversity among the population; yet, people unite to make a strong case for their country together. In 2017 and 2018, I lived in the city for several months to enable myself to see Singapore from a different perspective than tourists do. I have not felt lonely at all while I was there. The people I have met are patient, friendly, conscientious and dedicated to work hard. I visited several schools and educational institutions, such as the Ministry of Education, the National Institute of Education (NIE) and the Academy of Singapore Teachers.
Go back to the top of the page.